Article content
One of the greatest ironies of automotive history is the fact the Ford Motor Company sold more full-size cars than did Chevrolet for the 1957 model year.
Article content
Why the irony?
Because the '57 Chevrolet remains immensely popular today, in both the automotive culture and with collectors.
The '57 Ford? Not as much.
Here's what happened. Ford sold 1,522,406 cars during the 1957 model year, while Chevrolet sold 1,515,177. That's a difference of just 7,200 cars.
And even today there's some argument as to what company really sold the most cars. Chevrolet actually sold more cars during the 1957 calendar year, but they included several thousand '56 models.
What further complicates the numbers is that Ford sold about 132,000 of its '57 models outside of the 1957 calendar year. They were sold either in late 1956, or in early 1958.
Still, Ford won the '57 sales title, but that title was quickly regained by Chevrolet, which handily beat Ford for many more years.
—
The Chevrolet-Ford battle had deep roots that went back to the 1920s. The Ford Model T loomed large in the early part of the century, controlling upwards of 50 per cent of the North American car market throughout the First World War and well into the mid-1920s.
But Chevrolet was gaining. The Model T by 1926 was long-in-the-tooth, and Chevrolet –with better styling, performance and new technology – was gaining ground.
In May 1927, Henry Ford announced that Model T production would be ending, and that a new car would soon be announced. It was in December 1927 when the world learned the new Ford would be the Model A.
Meanwhile, Chevrolet slipped into first place in terms of sales, although Model A sales usurped Chevy by 1930. But Chevrolet had momentum and it quickly became the sales leader.
Article content
Although Ford built a very good car, especially with its V8, introduced for 1932, its sales position as a company slipped to third behind second-place Chrysler Corporation during the 1930s. Chrysler's Plymouth division rallied during the Great Depression and helped save the corporation. Its sales never surpassed that of Chevrolet or Ford, but Plymouth sales allowed Chrysler to beat Ford's overall sales as a company.
Ford wouldn't regain the coveted No. 2 slot until the early 1950s. By that time the battle between Ford and Chevrolet become even more heated. Chevrolet had the benefit of GM and its deep pockets, and could also draw upon technologies introduced through some of the more upscale GM divisions, such as Oldsmobile or Buick.
Ford, however, had a very good V8, although by 1952 it was 20 years old.
Chevrolet evened the playing field for the 1955 model year when it introduced its own V8. It was the first V8 available in a Chevrolet since 1918, and although only a small V8, its introduction was a signal to the rest of the Detroit-based industry that affordable performance was becoming the new standard for family cars.
The '55 Chevrolet was a wonderful car. It was a very attractive package, but its real story was the V8 engine.
The '56 Chevrolet was arguably more handsome and Chevy sales soared.
But sensing change within automatic tastes, Chevrolet brass wanted an entirely new car for '57, but it just didn't happen. And so the overall theme and style of the '55 and '56 models were carried over to 1957.
Article content
For that year, Chevrolet received a new dashboard, a sealed cowl and the relocation of its air ducts to the headlight pods. The grill was made wider, giving the car a wider stance in appearance.
But the new fins set it apart and were instantly iconic.
Part of the reason for the larger fins must have been Chrysler Corporation's Forward Look, introduced for 1955. By 1956, Chrysler products were sporting the largest fins in Detroit, and they would get even larger for 1957. Chrysler had become the style leader for the industry and GM stylists were being pressured to place larger fins on their cars.
That's why Chevrolet's bosses were pushing for a completely new model for 1957. They were denied by GM's brass and so subtle changes were made to the existing design. Yet those changes were enough to transform the 1957 Chevrolet into one of those rare automobiles that is almost perfectly proportioned, at least from a visual perspective. It looked good from any angle.
Chevrolet sold a great many of its 1957 models, but it didn't sell as many cars as Ford did.
—
Ford had introduced an entirely new look for its cars for the 1957 model year, and these were uniformly longer, wider and lower than their '56 models. That made a big difference for the buying public, which – as always – was looking for something new.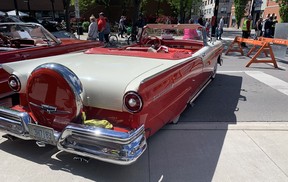 Partly because of Chrysler's Forward Look, the trend in the Detroit-based car industry by 1956 and 1957 was to have a car longer and lower in profile. In designing its new models for 1957, Ford followed that trend closely. It developed a new chassis for its all-new Fairlane that allowed the floor to be placed lower. That allowed the roofline to be lower.
Article content
The car's wheelbase was 118 inches in length, or three inches longer than Chevrolet's wheelbase in 1957.
And the Fairlane's overall length was 203.5 inches, or about five inches longer than the 1957 Chevrolet.
These differences would appear to be of no consequence today, but they mattered greatly in the fall of 1956 when Chevrolet and Ford introduced their new cars for the 1957 year. And for all of its inherent beauty, the new Chevrolet just didn't look as "new" or as "modern" as the new Ford.
Sensing it had to do something to lower the height of its 1957 model, Chevrolet replaced the 15-inch wheels with 14-inch wheels. Ford had already done that; the new Fairl
ane rode on 14-inch wheels. This, also, would become the industry standard for a few years.
The new Fairlane was a pretty car, with a new face and attractive rear end, and an interior and new instrument panel that reflected the forward-thinking tastes of that era.
Buyers had the chance to choose from among six different engines. They ranged from the 223-cubic-inch inline six-cylinder engine to Ford's 352-cubic-inch V8. Available among the engine selections were two "Thunderbird" engines – the 292 Thunderbird V8 and the 312 Thunderbird V8.
There were three transmissions available: three-speed standard, the three-speed Cruise-O-Matic, and the two-speed Ford-O-Matic.
Also available was Ford's safety package, introduced for 1956, which included seatbelts. But according to Popular Mechanics in March 1957, fewer than seven per cent of Ford buyers opted for seatbelts.
Article content
For 1957, Ford had a wide variety of full-size models available.
They included the two-door sedan, two-door business sedan, four-door sedan, two-door hardtop, four-door hardtop, two-door convertible, two-door retractable hardtop, two-door station wagon, four-door station wagon, two-door coupe utility (the all-new Ranchero) and the two-door sedan delivery.
The overall design of the 1957 Ford would continue through to the 1959 models.
Chevrolet, meanwhile, was positioned to introduce an all-new model for 1958, but, unusually for that era, it would but used for only one model year. For 1959, Chevrolet, along with the rest of the General Motors full-size lineup, would introduce new models that were longer and lower than its predecessors.